MONDAY to FRIDAY -- 06:00 AM - 10:00 AM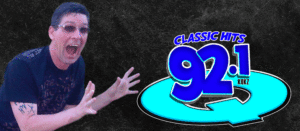 Danny's radio career started 30 years ago, while in high school in New Orleans. He moved to Bakersfield right after graduating and quickly landed an internship at a local station.  Since that time he's worked for various radio stations and played every song and artist imaginable. Rock, Alternative, Top 40, Country, Hip Hop, etc.  Danny is beloved in the community and best known for his long tenure in Rock and Alternative radio in Bakersfield. But his favorite music has always been the wide variety he grew up listening to on the radio in the 70's and 80's.  That's why Q921 Classic Hits is such a perfect fit for him!
Danny's also well-known for his work in animal rescue in our community. He has helped save the lives of hundreds of homeless and neglected dogs and cats in Kern County. Many of these rescue stories have been seen by millions through viral videos on YouTube and social media. Danny is a member of a local non-profit animal rescue, volunteers at a local animal shelter and also hosts an educational program that teaches elementary school students about the importance of being a responsible pet owner.
If he's not busy with music or dogs, Danny's probably watching Star Wars or Breaking Bad. He's also a diehard NFL fan and plays in 8 -10 fantasy football leagues every year.